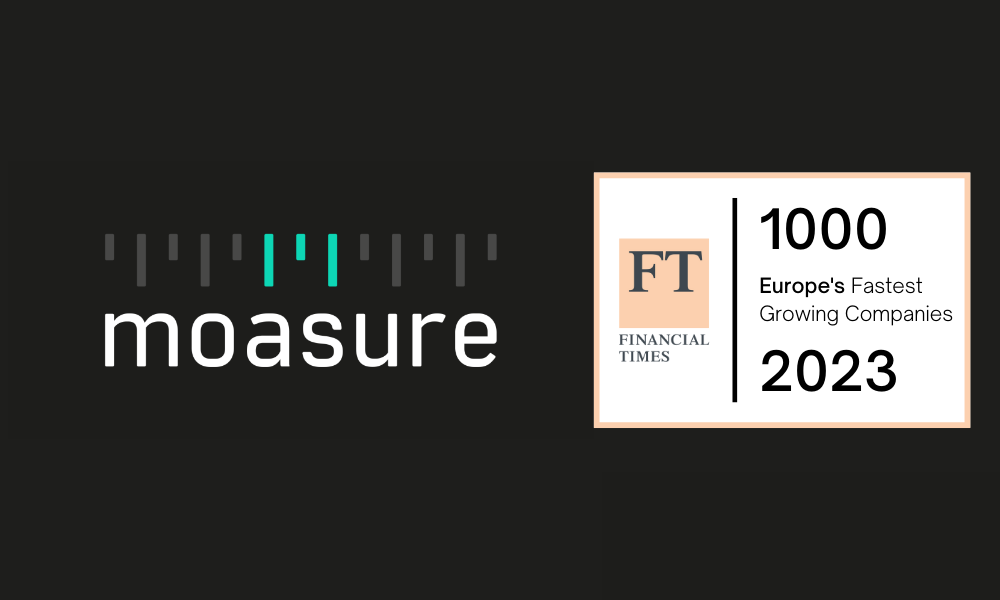 Moasure® ranked in top 15% of 2023's FT 1000 fastest-growing companies in Europe
Moasure® has seen exponential growth and won several awards since 2019, and has now been recognised by the Financial Times and Statista as one of the fastest-growing companies in Europe.
The 2023 FT 1000 lists the 1,000 fastest-growing companies in Europe, and you will find Moasure® at number 149 overall, ranking in 8th position in the Manufacturing sector.
Featuring companies with the strongest revenue growth between 2018 and 2021, this encompasses a challenging economic period involving the Covid-19 pandemic and Brexit, a particular challenge for UK companies – even so, Moasure® made it into the top 30 fastest-growing UK companies, and sits at the the top of the Manufacturing sector for UK business.
Sectors include Fintech, Financial Services & Insurance, Advertising & Marketing, Automotive, Construction & Engineering, eCommerce, Energy & Utilities, IT & Software, Manufacturing and Wholesale.
Moasure® ONE™ has cemented itself as a must-have tool for professionals in a wide variety of industries, including landscaping and hardscaping, artificial grass, concrete, construction, playgrounds and recreation, golf, pools and spas, outdoor living, and architecture – and that list is getting longer.
Having won a succession of high-calibre industry awards across 2022 and Q1 2023, Moasure® is most definitely one to watch, as its exponential growth is expected to continue throughout this year and beyond.
On being included in the 2023 FT 1000, Alan Rock, Founder and Co-CEO of Moasure®, said: 'It's a privilege to be ranked among a wide variety of such fantastic businesses from across Europe – congratulations to everyone else who featured on the list.
'From a Moasure perspective, our entire team has worked incredibly hard to make our product such a success, but this is only the beginning – our motion-based measuring technology is truly unique and is being adopted across the globe as the go-to way to measure difficult spaces. We can't wait to see how far Moasure ONE can go, as we venture into more and more markets around the world. So far this year, we have seen demand and interest in Moasure continue to grow exponentially, with more and more professionals adopting an easier way to measure complex spaces.'
Mo Hussain, Co-CEO, added: 'We're absolutely delighted to have been recognised by the Financial Times and Statista. Through 2023 and beyond, we will continue to develop our technology and increase our sales globally. We're very grateful to our customers for their feedback, and we'll continue working hard to add new features and increase the capabilities of our unique measuring technology, to give existing and new Moasure users an ever-improving tool.'
To find out more about Moasure® ONE™, click here.