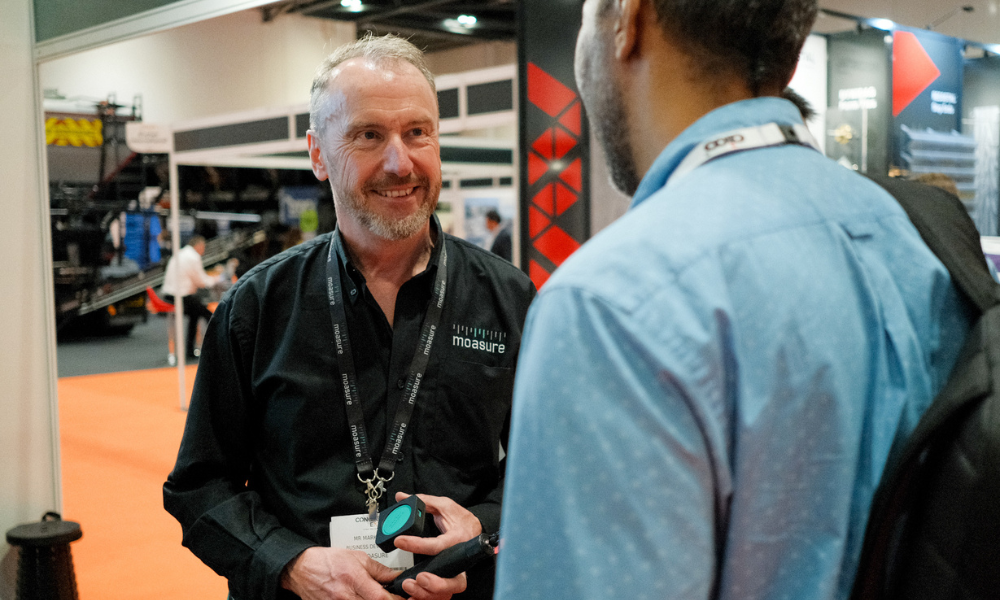 Moasure ONE makes its mark in London at Concrete Expo
The Moasure® team went along to Concrete Expo at ExCeL London on 2nd and 3rd May, performing back-to-back demonstrations of the world's first motion-based measuring tool to professionals in the concrete industry.
There was a real buzz in the air in the Big Smoke, with the King's Coronation a matter of days away, and the show was bustling with around 4,000 trade professionals in attendance. Co-located with the UK's biggest construction event, UK Construction Week, visitors had over 600 stands to see, including Moasure.
Offering a unique way for professionals to measure complex spaces, including perimeter, area and elevation, Moasure ONE is making a name for itself. It doesn't require phone signal or GPS to measure, thanks to accelerometers, gyroscopes and algorithms packed inside its tough, pocket-sized shell. With Bluetooth technology connecting the device to your smartphone, measurements can be drawn in real time through Moasure PRO, the device's companion app, giving the user a comprehensive 3D diagram of a job site – you can then transfer these completed diagrams from Moasure PRO into design software, quickly and easily, free of charge.
Designed to make difficult measuring easy, Moasure ONE replaces the need for traditional, error-prone measuring tools, helping experts in industries such as construction, landscaping, sports, lawn care, playground design and, of course, concrete, to quickly and accurately estimate jobs – it's rapidly changing how people measure all over the world.
If you missed out on seeing Moasure ONE in action at Concrete Expo, don't worry as there are more opportunities to see this revolutionary motion-based measuring device in the UK in the near future – take a look at our 
Tradeshows & Events page
to find out where the team will be and when.