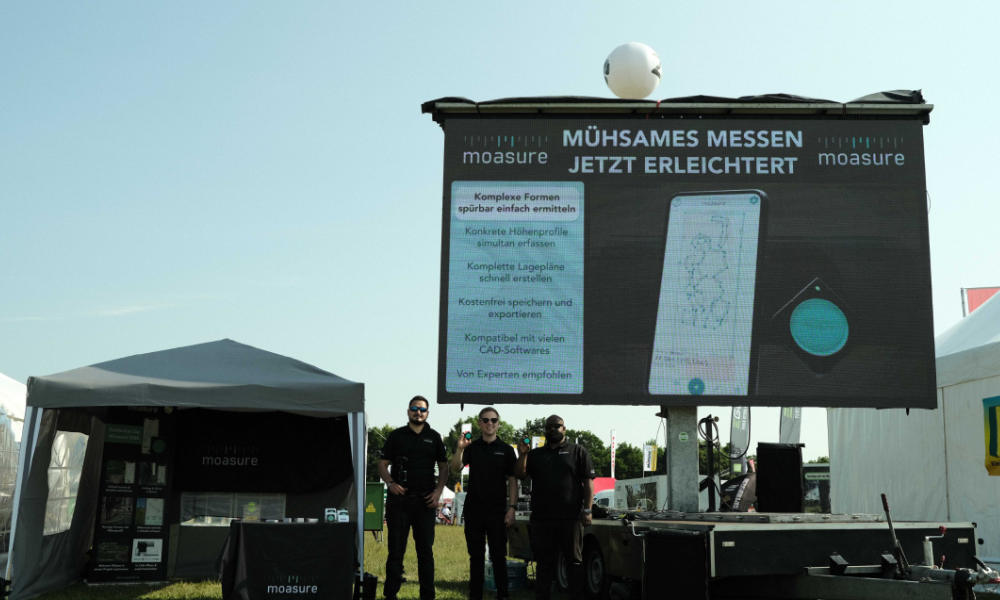 Moasure takes centre stage at demopark 2023
demopark.de/en/" target="_blank" rel="noopener noreferrer">demopark in Hörselberg, Germany, is Europe's largest open-air exhibition in the green sector, attracting around 37,000 visitors each year – and the 2023 iteration didn't disappoint. This year, the Moasure team went along from 18th – 20th June to show everyone what Moasure ONE can do.
Moasure's first fully outdoor tradeshow went perfectly and the amazing weather was there to join in, too. The team got to speak to many individuals in the green sector and show how Moasure ONE can help them and their business measure more efficiently.
Moasure was joined by many other innovative companies offering a variety of solutions to benefit the green sector, but nothing else on display was quite like the world's first – and only – motion-based measuring device. The team spent the three-day event showing off exactly what award-winning Moasure ONE can do, and how it can transform the way professionals within the green sector measure.
Since it has the capability to measure and draw simultaneously through the Moasure PRO app, it means you can instantly see a full drawing of your measurements that can be immediately shared or exported to various platforms, which went down well with visitors who were new to Moasure.
Everyone was thoroughly impressed with Moasure ONE and were intrigued to see how it could effortlessly measure complex spaces in a fraction of the time that they're used to. If you weren't able to make it to demopark this year but would like to see Moasure ONE in action with your own eyes, take a look at the long list of trade shows the team is yet to visit this year and be sure to stop by the Moasure stand. Check out the Tradeshows & Events page to see where they are heading next.
If you didn't get the chance to join the Moasure team and still want to learn more about Moasure ONE, don't forget to check the website for more information and virtual demonstrations.