Moasure to unveil new measuring technology at FutureScape
T

ransforming the Way Landscapers Measure
Moasure's patented technology is transforming how landscapers work with its ability to measure and draw – rapidly and simultaneously.
Thanks to Moasure user feedback and our passion for developing a better, smarter and faster way to measure, we're delighted to announce a new companion app for the Moasure ONE measuring device. We're confident that with the app's new features, landscapers will be equipped to measure even faster and save even more time.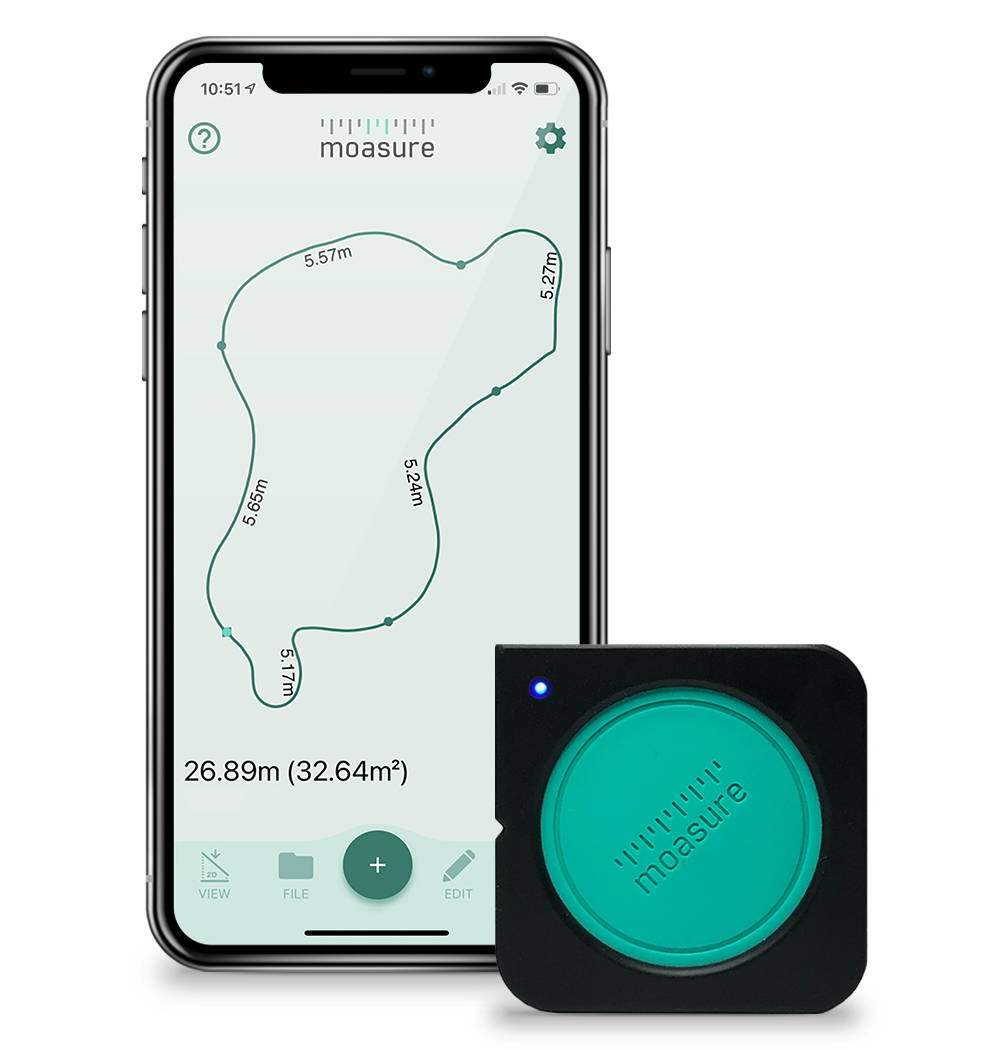 Measuring complex shapes with traditional tools has so much potential for error. Thanks to its patented technology, Moasure makes measuring difficult, simple. Moasure enables landscapers to measure in a completely new way, just by moving from one point to another, with measurement data captured in real-time and viewable on your smartphone or tablet screen.
As well as rapid, simultaneous measuring and drawing, you can factor in gradients, define spot elevations and calculate the area and perimeter of complex spaces with ease – even around obstacles.
"It's helped me so much, I'm able to be a lot more accurate when measuring out jobs. I can be more confident about ordering materials and giving quotes, especially when measuring awkward shapes. Game changer as far as I'm concerned. Thanks Moasure."
David Walsh
Fine Home Construction & Landscaping
Save hours of time and complete more jobs – this really is the smart new way to measure areas, shapes and spaces for gardens, lawns, driveways and lots more.
The new Moasure PRO app delivers on some of the most frequently requested features from Moasure users which will enable you to spend less time measuring and get more done.
Whilst the list of improvements and enhancements is extensive, read on to see some of the highlights.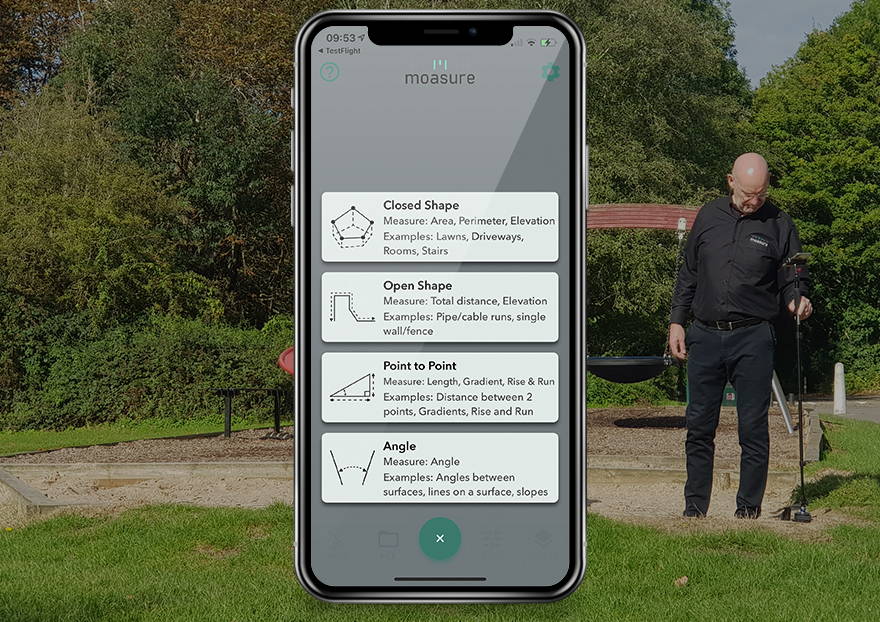 Difficult Measuring Made Easy
With Moasure PRO, you can now select the type of measurement you wish to take from a simplified list. Once you've begun your measurement, you'll discover a new feature – Paths.
Using Paths, you'll be able to switch between Straight Line, Trace Line, Arc and more. This means you'll have more control during a single measurement. For example, you'll be able to switch from measuring in a straight line from one point to another, to measuring around a curved line.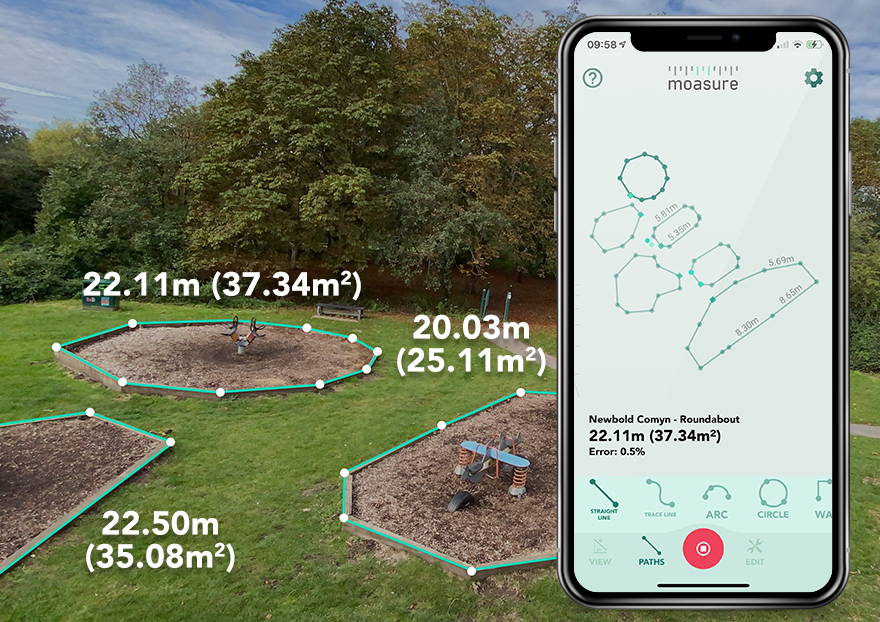 Measure Multiple Areas Relative to Each Other

Now, you can measure multiple shapes relative to each other – all in one, single measurement. This new and powerful feature, called Layers, enables you to measure shapes, or Layers, within an area and produce a comprehensive on-screen diagram of all Layers – all positioned relative to each other.
Measure Changes in Elevation

Moasure captures elevation changes with ease and allows you to review them on screen, ideal for assisting topo surveys and capturing spot elevations.
"I have recently discovered that I can use the Moasure to randomly walk large areas of the property to take a bunch of data points that can be exported (X, Y, Z coordinates in CSV file) to Vectorworks where I can then prepare an actual 3D site model of the property as well as 2D topographical maps. The ability to produce the data for 3D site models and 2D topo maps is a great feature."
Allen Hoffman

"Fantastic piece of kit. Measuring unusual shaped areas on site has never been easier and the fact that it sketches, works out areas and emails them directly to my email address in various formats means that I will never miss a quotation or waste valuable time calculating areas again. This tiny box does it all for you. Five stars from me!"
Steve Patterson

With the Moasure PRO app's improved user interface, you can quickly and easily view the length, rise and run between any two points plotted with Moasure ONE. Simply tapping on-screen points displays the elevation change relative to the starting point of the measurement.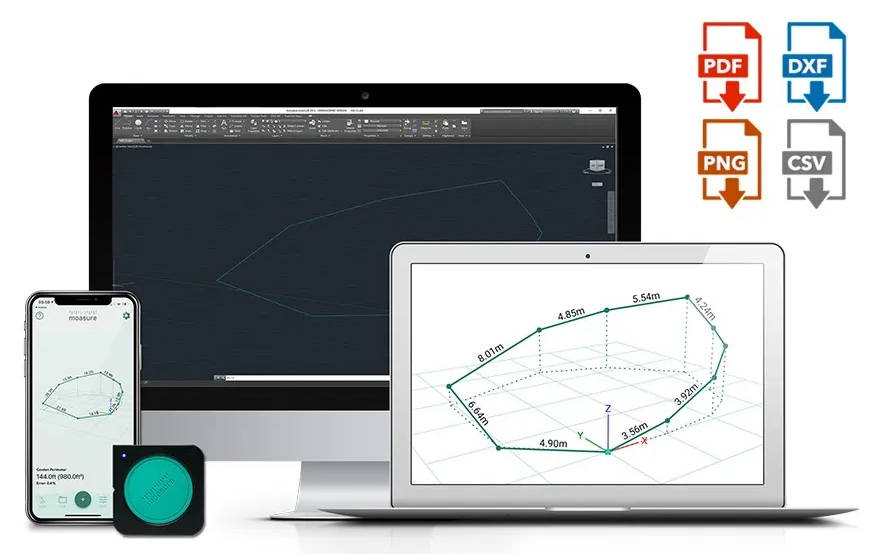 Export Measurements To Your Favourite Software

You can also optimise your workflow by exporting your measurements from within the Moasure app – to PDF, DXF, PNG, SVG or CSV formats. Moasure's export feature is included without any additional cost.
"I often get surveys where the site slopes or there are many changes in level. In the past it's been a chore to even get the survey done, but now I enjoy it! I can cover a lot of ground and feel comfortable that the data can transfer over to my office tools. With the data mapped in productivity has increased and I can give customers a better turn around. Great device and easy to master. Looking forward to see where the tool goes and development of the app!"
Jeremy Wedge

Measurements taken with Moasure can be exported to popular programs such as: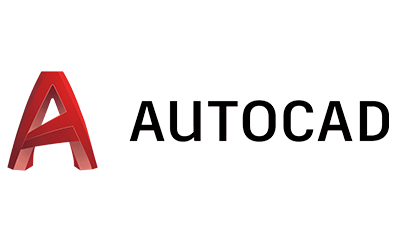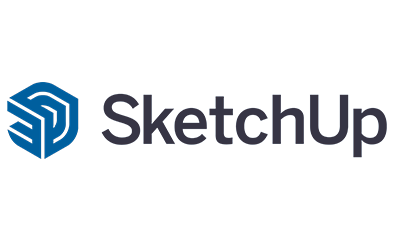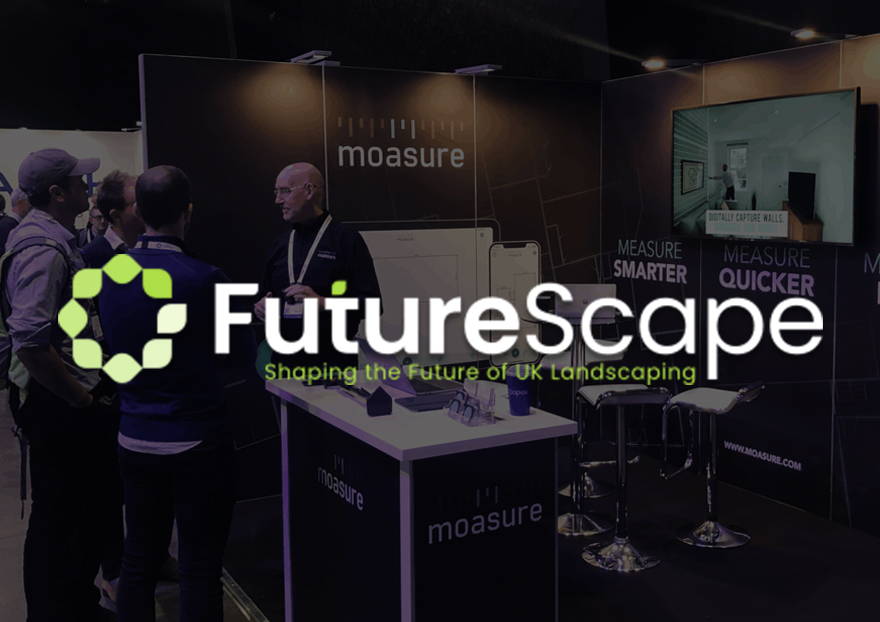 See Moasure in Action at FutureScape 2021

Visit the Moasure team at Stand C54 where you'll see Moasure's latest technology in action. We'll demonstrate just how quickly you can measure regular and irregular areas and shapes – both simple and complex.
---
Choosing a selection results in a full page refresh.
Opens in a new window.