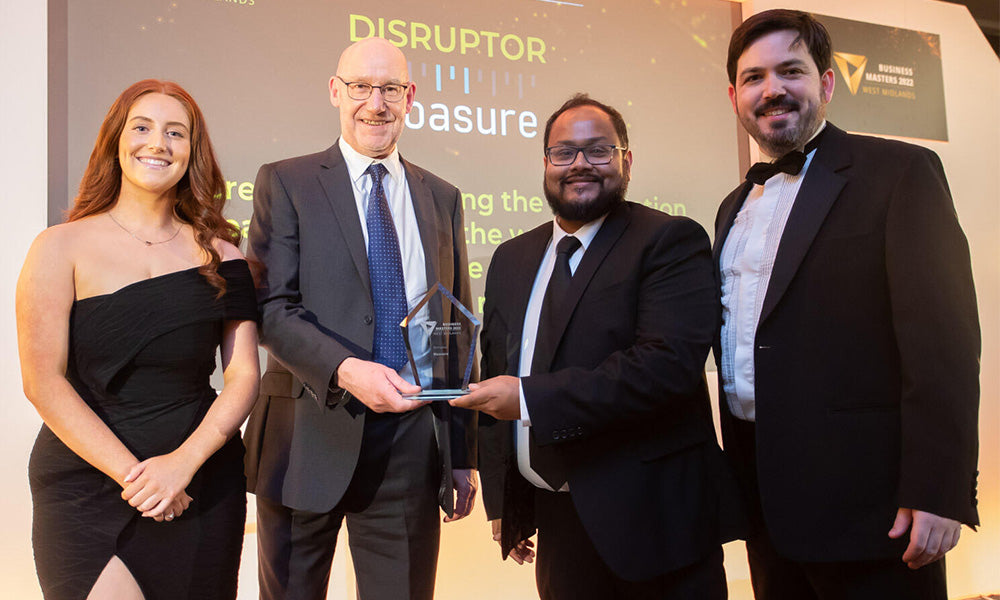 Moasure Wins Disruptor Business Award
Moasure, the Warwick based measuring technology business, has won the Disruptor award at the 2022 West Midlands Business Masters ceremony held in Birmingham, United Kingdom.
Launched by TheBusinessDesk.com in 2021, the Business Masters Awards celebrate companies that have achieved spectacular results in the past twelve months. 
Moasure was shortlisted in both the Disruptor and Fast Growth Business categories.
Independently judged, the Business Masters Awards ceremony brings together the region's business owners and leaders to recognise and celebrate the achievements of firms of all sizes.
Commenting on the award win, Alan Rock, co-CEO of Moasure, said: "We're all really proud to have won this prestigious award. Across the world, demand and interest in Moasure continues to grow exponentially – revenue has almost tripled in the last 12 months and we're seeing great success with the recent launch of five new online stores to accommodate rising sales in Europe.
"Our motion-based measuring technology is truly unique and is now being adopted across the globe as the new way to accurately measure difficult spaces. 
"This year will see us continue to develop our technology and increase our sales globally. We're very grateful to our customers for their feedback and we're working hard to add new features and increase the capabilities of our unique measuring technology so that we can continue to delight both existing and new Moasure users into 2023 and beyond."
In September, Moasure ONE won two prestigious accolades including the 2022 'Best in Show' award at LANDSCAPE – and the 2022 Innovation Award at GaLaBau, one of Europe's biggest international trade shows dedicated to the landscape design and construction industries.