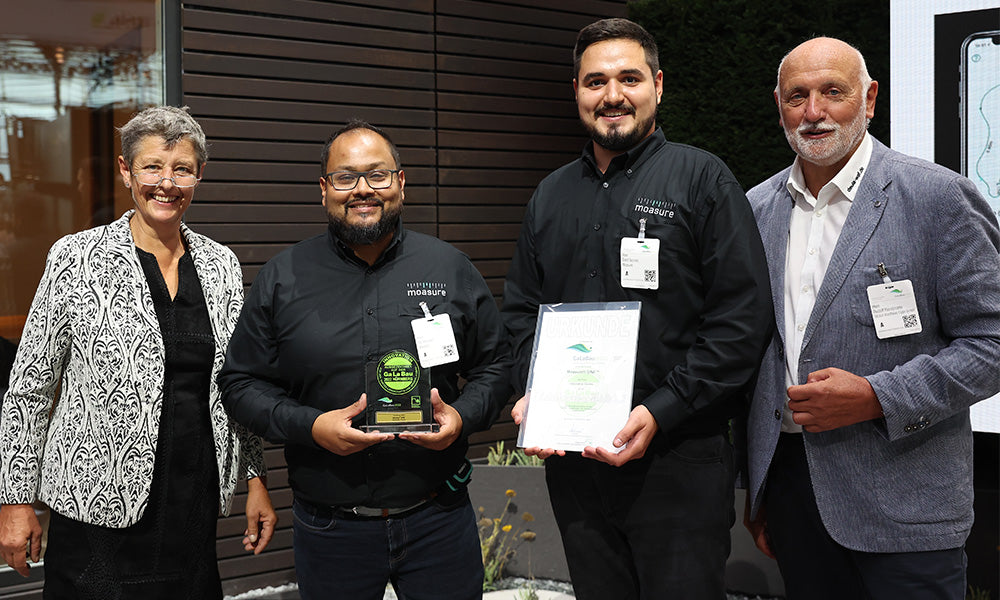 Moasure Wins Innovation Award at GaLaBau International Trade Fair
Moasure®, the brand behind the world's first motion-based measuring device, has received a prestigious award for innovation at the company's inaugural visit to one of the world's largest landscape industry events.
Creators of the pocket-sized Moasure® ONE™ digital measuring tool that rapidly measures outdoor and indoor spaces, the company was exhibiting for the first time at GaLaBau, a leading international trade show at Nuremberg Exhibition Center, Germany. 
Revolutionizing how professionals measure complex outdoor spaces, Moasure ONE is transforming the garden design and landscape construction industry with its ability to measure irregular shapes while simultaneously capturing an on-screen diagram. Landscaping industry professionals who previously relied on error-prone traditional measuring tools can now rapidly calculate area, measure perimeters and distance while factoring in gradients and elevations.
Using accelerometers, gyroscopes and advanced, proprietary algorithms, Moasure ONE measures its own movement in 3 dimensions without relying on cell phone signal or GPS.
Following strict evaluation criteria, the GaLaBau 2022 Innovation Award was presented to Moasure by a panel of experts from the Federal Association of Horticulture, Landscaping and Sports Facilities, a trade association representing over 4,000 companies across Germany's gardening, landscaping and sports field construction.
The biennial event attracted over 60,000 professionals from 76 countries representing a variety of industry areas across the gardening and landscaping community. Exhibiting with an expert, multi-lingual team, Moasure attracted many thousands of visitors with live demonstrations of its transformational Moasure ONE measuring tool.
GaLaBau 2022 also saw the introduction of a new forum, Digitalization@GaLaBau, focused on the theme of digitalization for companies and its positive impact on productivity and efficiency. 
Commenting on Moasure's live demonstrations at the trade show, Tjards Wendebourg, Editor-in-Chief of specialist magazine DEGA GALABAU wrote on Facebook:

"[Moasure] is one exhibitor who can probably claim to have had the largest flow of visitors relative to the size of their exhibition space". 
Moasure employee Beril Sezmis, participant at the forum and representing the company in Europe's German-speaking region, said: 
"We were delighted to exhibit at GaLaBau Nuremberg for the first time ever, meeting both existing and new customers, some of whom traveled from across Europe just to see Moasure ONE in action. Our showcase space for live demonstrations attracted large crowds of trade show attendees, with some commenting that from over 1,000 exhibitors, Moasure was the most memorable. 
"We were able to demonstrate Moasure ONE's ability to rapidly measure complex and irregular shapes whilst simultaneously drawing a measurement diagram on-screen in real-time. Visitors were especially pleased to confirm that as well as perimeter and area calculations, Moasure ONE can effortlessly measure and calculate changes in elevation. 
"Professionals from a host of industries including garden design, landscape construction, playground design and many others were amazed at how rapid 3D measurements can be made with Moasure – and how simply those measurements can be exported to AutoCAD, DATAFlor, Vectorworks and other popular software.
"Visitors to our live demonstrations reacted very positively to Moasure ONE's pricing – and to the fact that there are no recurring costs or subscription fees."
Commenting on the success of GaLaBau 2022, Moasure Founder and Co-CEO Alan Rock said: 
"We're honored to have not only participated in the first GaLaBau trade show in four years, but to have also been awarded with the GaLaBau 2022 Innovation Award and for being invited to participate in the inaugural Digitalization@GaLaBau forum event.
"To have our technology recognised and awarded by a respected and interdisciplinary evaluation committee underlines the transformative impact that Moasure is having across the landscaping, gardening, construction, playground and pool industries. 
"With the launch of our German-language website last year www.moasure.de and subsequent launch of websites for Spain, Italy and France, we're on track to double our sales again within the next year, having seen them grow 180 percent in the past 12 months."
Following Moasure's exhibiting at GaLaBau, the company showcased its revolutionary measuring device at the inaugural ELEVATE conference and expo in Orlando, USA – hosted by the National Association of Landscape Professionals (NALP). 
Moasure is scheduled to attend further trade shows and exhibitions this year, including Hardscape North America in Louisville, USA on October 19th – 21st.