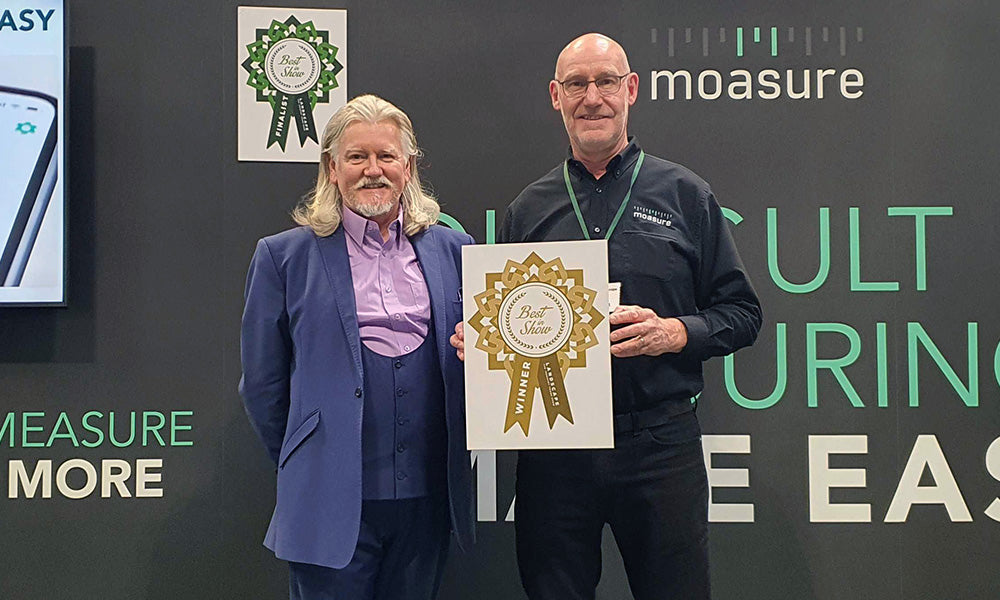 Moasure Wins LANDSCAPE Best in Show Award
Moasure®, the brand behind the world's first motion-based measuring device, has secured its second award in a month, winning 'Best in Show' at LANDSCAPE – one of the UK's biggest annual industry events.
Attracting thousands of visitors from over 60 countries, attendees were asked to vote for one of eight shortlisted products – seeing the digital measuring tool Moasure® ONE™ winning the majority of votes.
Dedicated to qualified garden designers, landscaping architects and contractors, LANDSCAPE is one of a series of international trade shows that has seen Moasure showcasing its innovative measuring tool to industry professionals through live demonstrations.
Revolutionizing how professionals measure complex outdoor spaces, Moasure ONE is transforming the garden design and landscape industry with its ability to measure irregular shapes while the Moasure companion smartphone app simultaneously captures an on-screen diagram. 
Using accelerometers, gyroscopes and advanced, proprietary algorithms, Moasure ONE measures its own movement in 3 dimensions without relying on cell phone signal or GPS – captures and measures changes in elevation as well as perimeter and area, giving industry professionals a solution that allows for rapid generation of comprehensive site plans.
Receiving the 'Best in Show' award at LANDSCAPE, Moasure Founder and Co-CEO Alan Rock said: 
"We're overjoyed to have won this year's award at LANDSCAPE. Being our second year exhibiting at the event, we are always thrilled to see the reactions of attendees to our live, in-person demonstrations of Moasure ONE.
"We're always excited to demonstrate our product and its transformative effect on the industry. In essence, using Moasure ONE allows you to measure difficult areas more accurately, helps you quote more jobs, and helps to ensure that those jobs are more profitable.
"We found that visitors to our live demonstrations were most impressed by the ability to effortlessly capture changes in elevation, just by walking from one point to another – and seeing an entire job site generated in 3D on-screen. 
"Being able to then transfer a complex site measurement from the Moasure app, straight into design software with just a few taps is a real game-changer – and this feature is included without any additional costs."
Earlier this month, Moasure secured the Award for Innovation at the company's inaugural visit to one of the world's largest landscape industry events – GaLaBau, a leading international trade show at Nuremberg Exhibition Center, Germany. 
Following strict evaluation criteria, the GaLaBau 2022 Innovation Award was presented to Moasure by a panel of experts from the Federal Association of Horticulture, Landscaping and Sports Facilities, a trade association representing over 4,000 companies across Germany's gardening, landscaping and sports field construction.
Moasure is scheduled to attend further trade shows and exhibitions this year, including Hardscape North America in Louisville, USA on October 19th – 21st, SALTEX (Sports Amenities & Landscaping Trade Exhibition) in Birmingham, UK on 2nd – 3rd November and FutureScape in London, UK on 15th – 16th November.