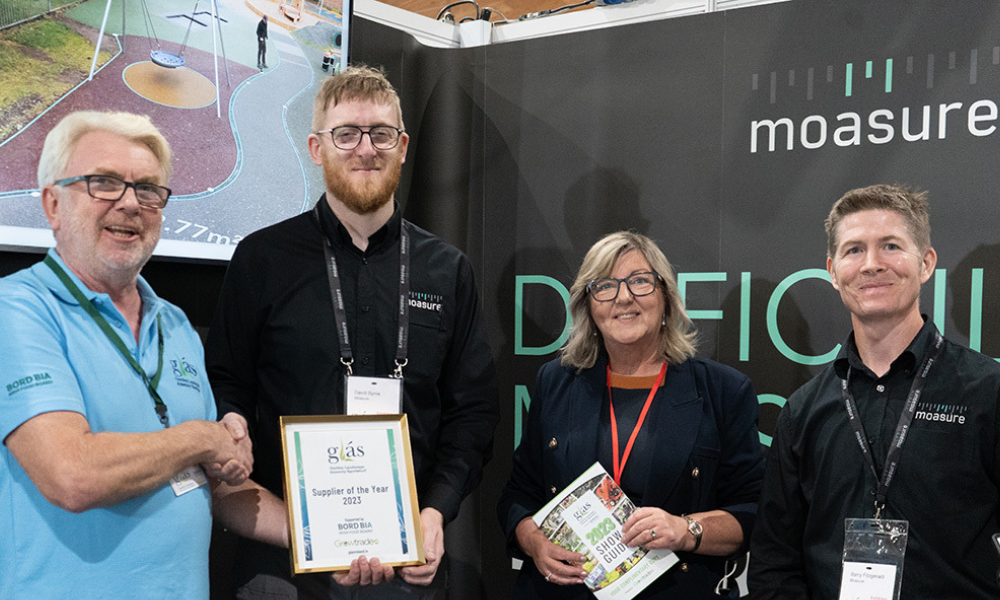 Moasure wins 'Supplier of the Year' award at GLAS Ireland
The Moasure team hopped across the Irish Sea to the Emerald Isle last week, to exhibit at Dublin's very own one-day trade show for the garden, landscape, amenity and sportsturf sector, GLAS Ireland.
The event was a huge success, as not only did the team get to meet existing and prospective customers in Ireland for the very first time, but Moasure also came away with the GLAS Ireland 'Supplier of the Year' award, highlighting the impact their pocket-sized motion-based measuring device is already having in the industry.
GLAS' Eamonn Maguire commented: 'We were really excited to have Moasure exhibiting for the first time at GLAS – we've been seeing Moasure's progress over the past couple of years and it was great to see the reaction from show visitors who watched the guys demonstrate their measuring technology. We were really happy to present Moasure with the well-deserved Supplier of the Year award.'
Many horticultural, sportsturf and landscaping professionals dropped by the Moasure stand to witness the capabilities of Moasure ONE and see how it can transform the way they measure, offering the ability to save them both time and money.
As the world's first-and-only motion-based measuring tool, Moasure ONE gives users a fresh approach to measuring complex spaces. Its rapid calculation of area and ability to register changes in elevation are changing the way professionals measure in a growing number of industries, including all those present at GLAS.
Gone are the days of relying on phone signal and GPS, as Moasure ONE utilises accelerometers, gyroscopes and advanced algorithms to measure. The device's companion app, Moasure PRO, connects to the device using Bluetooth technology to enable it to provide real-time measurement visuals and comprehensive 3D diagrams of job sites. These diagrams can be seamlessly transferred to design software such as AutoCAD, SketchUp and Vectorworks in CSV, DXF and SVG file types, simplifying the process, at no extra cost. It's also easy to share PDFs with colleagues and clients in an instant.
Moasure has already exhibited at various events around the world in 2023, and there are many more in the pipeline. If you missed out on meeting the Moasure team at GLAS Ireland, take a look at the team's upcoming destinations here:
View upcoming trade shows and events
To gain a deeper understanding of Moasure ONE's functionality before attending any future trade shows in 2023 and beyond, click here:
Find out more about how 
Moasure ONE
works