Calculate elevation changes as you move
With Moasure, you can now rapidly determine elevation changes by simply moving from one point to another.
As you start a measurement, advanced motion-measuring sensors are immediately activated and Moasure ONE begins recording its own movement in 3D.
Simply place Moasure ONE down at any point – once the device is stationary, a data point is captured and displayed on the Moasure companion app.
Each data point represents an X, Y, Z co-ordinate, allowing you to capture and plot a complete 3D model of a job site – all in the time it takes you to walk around.
Gradient, rise & fall
As you collect measurement data points, you'll see Moasure draw a complete 3D model on your smartphone screen – in real time. Once your measurement is complete, simply tap on any point to view its X, Y, Z data.

Using the intuitive Moasure smartphone/tablet companion app, you can use the Cross Section tool to choose any two points captured during your measurement to see:
Rise & Fall/Rise & Run: Linear distance, horizontal distance and height/vertical distance

Gradient/Slope: Calculated and expressed both as angle and percentage values
Moasure ONE replaces traditional, error-prone measuring instruments and awkward, bulky laser equipment with a pocket-size tool that fits in the palm of your hand.
Quickly record spot elevations
Using Moasure ONE's Point-to-Point measurement mode, you can effortlessly find the distance, rise and fall or slope. Each time you place the device stationary, Moasure's app will immediately display its calculations relative to your measurement starting point.
Now, you've no need to memorize measurements, carry a calculator – or clipboard and pen, Moasure does it all for you while you move with calculations displayed in real-time on your smartphone or tablet screen.
Measure complex shapes & spaces
Whether you're using Moasure to obtain elevation changes across a yard or generating a complete 3D model of a complex shape, Moasure allows you to single-handedly take measurements, eliminating the need for guesswork.
Save comprehensive and interactive measurement diagrams straight to your smartphone or tablet, giving you peace of mind and allowing you to focus on presenting customers with detailed and accurate project estimate.
Measure without line of sight
Thanks to its revolutionary motion-measuring technology, Moasure doesn't require line of sight – you can measure around corners and through obstacles such as buildings, trees and bushes.
Simply capture points around the obstacle and use the Moasure app tools to extrapolate a path straight through the obstruction.
Utilizing high-performance motion sensors, Moasure ONE doesn't require GPS or cell phone signal – this portable measuring device can be operated across both flat and uneven terrain, regardless of weather or lighting conditions.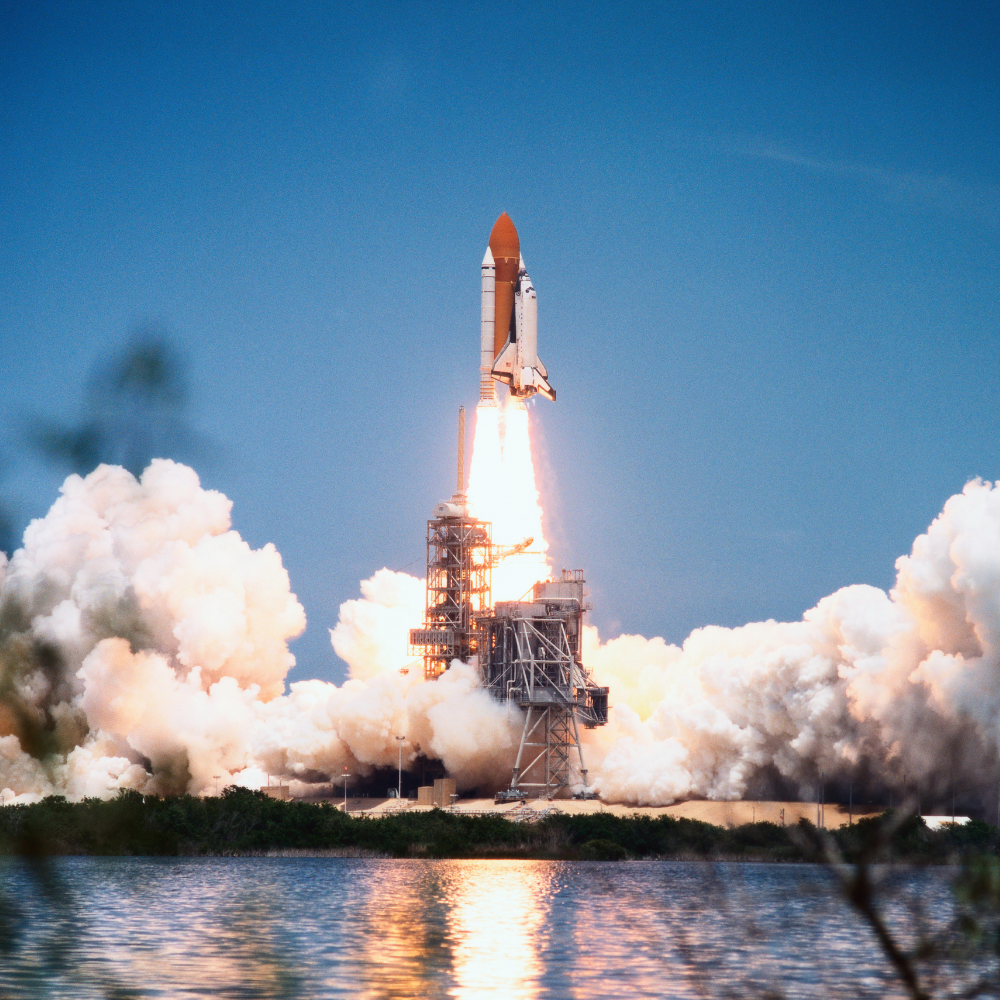 How Moasure works
It really is rocket science!
Moasure uses the same technologies that are used in rocket guidance systems to keep track of the rocket's movement in space.
Moasure's patented technology uses motion to take measurements, leveraging inertial sensors and a proprietary algorithm to deliver an innovative new way to measure.
Moasure ONE takes more than 500 sensor measurements every second as you move. Measuring its own movement in three dimensions, Moasure ONE knows its own position in 3D space doesn't rely on GPS, phone signal or daylight, making it easy to single-handedly measure distance, perimeter, area, changes in elevation and more – at any time, in any place.
Moasure's dependable technology enables contractors to drop error-prone measuring methods and replace traditional tools with the one tool that does it all.
Learn more
Featured Customer Reviews
Amazingly helpful tool
After using Moasure ONE with the stick and finally getting the hang of it - it has turned out to be a HUGE help. I was skeptical as to its accuracy both measuring flat areas & basic SF measurements and elevation measurements but both I have confirmed with previous measurements taken on site with traditional methods. I have found it to be extremely helpful and much faster than taking traditional elevation measurements with a rod and transit especially as Moasure converts the points to CSV which then can be imported into AutoCAD.
Steven Zimmer
Oakshade Nursery and Landscape Services
Incredibly useful everyday carry
I'm a project manager for a paving company and while I use this all of the time for square footage calculations, one of my favorite functions is the point-to-point function that shows rise over run. So perfect for verifying drainage slope and elevation calculations for installing steps and more. I'll be honest, at first I was a little skeptical of the Moasure One, but now it never leaves my side. I'm thinking about getting the Stick next. I could definitely put it to good use. Buy the Moasure. It pays for itself.
Ian Coffman
Bayside Pavers
Measuring!
We use it for our sod installation business the ability to have elevation built into the calculations and then also the ability to adjust areas based on the X Y and Z axis save an enormous amount of going back and having to remeasure. Everywhere I Go people are asking what is that I know for a fact that six or seven people have inquired to buy because of what they've seen. Customer service is fabulous as well as the emails with questions and concerns.
Jeff Hagerman
Superior Turf-Sod Farm, Inc.
Saves time and money
I love that I can get out of my truck and shoot some elevations for determining how much dirt needs to be excavated, this helps in getting our bid closer to what it needs to be. We use to have to setup our laser and hope that we placed it in the right spot to read the elevations. This tool saves time and money.
Sam Clifton
Millstone Custom Homes
Saves hours of measuring - wahoo!
The old way of measuring: measuring tape, measuring wheel, laser, sticks and twine (elevation) and another person. Now it's just me and Moasure. My time is spent designing the landscape of my clients' dream, rather than measuring which is my nightmare. Shout out to the update with multiple areas in one measurement. Thank you!
Sarah Hage
Sage Greenscaping
Pre-bid tool
The abilities to take existing grades as you measure get you the information you need to help with drainage issues so you can quickly come up with a plan with out pulling out a laser level just to price out a project It the measuring - elevation take off tool I been always looking for just did not know it until I got one.
Tyrone Ward
TMW Enterprises Paving & Maintenance
Export Measurement Drawings & Data
Share measurements with colleagues or send them straight to your favourite design software – at no additional cost.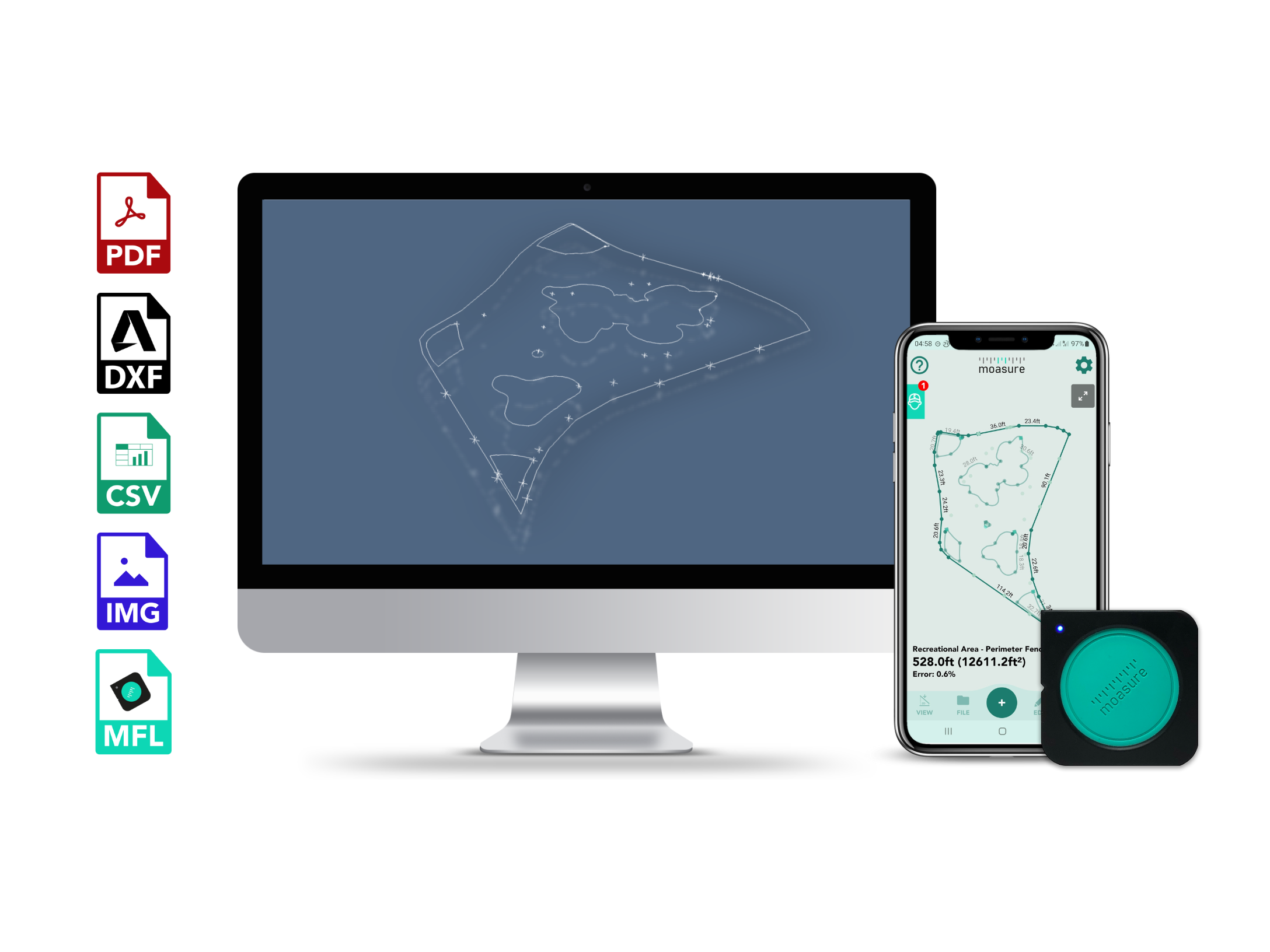 Export to PDF - Automatically generate a comprehensive PDF document of your measurement, including a diagram of the measured shape and corresponding measurements for each edge, as well as elevation data for each captured point.
Export to DXF (AutoCAD/DWG Compatible) - Export 2D or 3D DXF files, which can be opened in all popular CAD applications such as AutoCAD, SketchUp, VectorWorks and ArcSite.
Export to CSV - Export coordinate data as a CSV file. CSV files can be used for many CAD applications. The CSV file displays the measurement's X, Y and Z values.
Export to Image - You can also export your measurements in image formats including PNG, JPG and as transparent SVG.
Frequently Asked Questions
Single dimension measurements taken with Moasure ONE – for example a 12 ft length or height, are accurate to within 0.5% (plus or minus ¾ inch)
Area calculations made with Moasure ONE – for example a 150 ft2 area, are accurate to within 2.0% (plus or minus 3 to 4.5 ft2)
This makes Moasure ONE ideal for measuring for estimates and quoting e.g. for landscaping, artificial grass, garden design, paving, concreting, pool construction, playgrounds and recreation, sports courts, construction, excavation – and many other industries.

There isn't a fixed limit to the distance you can measure with Moasure; instead there is a physical limit to the amount of time you can measure in a single measurement. This is determined by the available memory on your smartphone or tablet.

As this varies from phone to phone, we quote a "safe" maximum distance of 1000ft and a largest area of 100,000 sq. ft. to remain well within the memory limit of almost any smartphone. Having said that, we know customers who have measured a distance of 2,500ft and area of more than 269,000 sq. ft.
No, there are no ongoing costs or subscription fees.
The Moasure PRO app, used in conjunction with the Moasure ONE device, is completely free and this includes future updates and new features.
Moasure leverages its patented motion measuring technology. It puts in your hands one tool that can measure any distance, height, width, level, angle or incline. All you need to do is move and tap.
As you touch down from one point to another Moasure plots each position and calculates all the relevant measurements at the same time. So, if you take a straight-line measurement from one wall to another, Moasure will calculate the A to B measurement, but it will also be able to calculate the difference in height, level or angle between the two points.
Intelligent Measuring
Moasure is an incredibly smart measure, working powerfully with all the data it collects. Touch the diagonal corners of a room and Moasure will produce length and width measurements and calculate the 2D area of the room all at the same time. It can just as simply calculate 3D measurements and volume of any object whether that's a box for packing or a round table or piece of furniture to put in storage.
Moasure can also adjust measurements to ignore obstacles, so if you need to move around furniture or move through doors to get from one room to another, it will measure as if the obstacles and walls are not there. Moasure can also adjust measurements if you cannot reach in a straight line across a room.
We think motion measuring will change the way we think about measurement.
The Technology Behind Moasure
Moasure uses the same technologies that are used in rocket guidance systems to keep track of the rocket's movement in space. Moasure uses the same principles with accelerometers, gyros and magnetometers plotting its position in 3D space, measuring g-force and rotation and taking account of the gravitational changes with altitude and latitude.
Moasure takes more than 500 sensor measurements every second as you move. Complex software algorithms process this data and calculate how far Moasure has been moved and rotated
As Moasure plots and measures at the same time, all you need to do is move and Moasure will track its position from point to point and give you the measurement. This means it is as easy to measure across a room from one wall to another, as it is the whole length of a garden; and as easy to measure a flat surface as it is a curved wall or a cylinder or something irregular like a run of pipe round the wall of the house.
Yes, you can choose to display measurements in either metric or imperial units from within the Moasure smartphone/tablet app.
If you're not satisfied, we're not satisfied.
If you would like to return your Moasure ONE, simply keep your original product packaging and accessories, ensure the device is in sellable condition (we know you have to use it) and then get in touch with us to and return it to us within 30 days from purchase.
Moasure ONE requires your smartphone or tablet to have at least Bluetooth 5.0 and is compatible with most devices that have the following operating systems: Apple iOS 12.4 and higher, Android OS 8.0 and higher.
Operating Temp:-10C to +50C (14F to 122F)
Storage Temp:-20C to +70C (-4F to 158F)
Shock:Survives 2m drop on to concrete
Sealing:Sealed to IP67 - water-resistant
Certification:CE certified
Battery Type:Lithium Polymer
No of Measurements:4-5 Hours Continuous Measuring
Recharge Method:Via USB (cable supplied)
Recharge time:2-3 Hours


Package Contents:
Moasure® ONE™
Moasure Protective Belt Pouch
Micro USB Charging Cable
Quick Start Guide
We recommend 'breaking down' a longer measurement into a number of smaller steps, by momentarily holding Moasure® ONE™ against a stationary object every 6-8 seconds during the measurement. This achieves a higher level of accuracy than if the long measurement is carried out in a single step.
You can contact us by completing the form here, and our friendly team will respond as soon as possible.
We've worked hard to make the Moasure ONE as affordable as possible – and so we do not offer coupon codes or discounts at this time.
The components used in Moasure ONE are extremely costly. However, by adopting a customer-first eCommerce business model, we're able to reduce supply chain costs and make Moasure ONE available at the best possible price – well below what the first generation of this technology would otherwise cost.
We're thrilled to see the impact of our revolutionary product on a host of industries, from landscaping and construction to decorative concrete, playground design, outdoor living, and many others.
Our customer reviews speak to Moasure's impact in enabling businesses and contractors to save time measuring complex spaces while saving money by quickly and accurately estimating jobs.
There are no ongoing costs or hidden fees – through our money-back guarantee, you can purchase Moasure ONE and try it out for 30 days without risk.
We are proud to offer Moasure ONE at an affordable price all year round and we're confident that our revolutionary measuring device will transform your business.