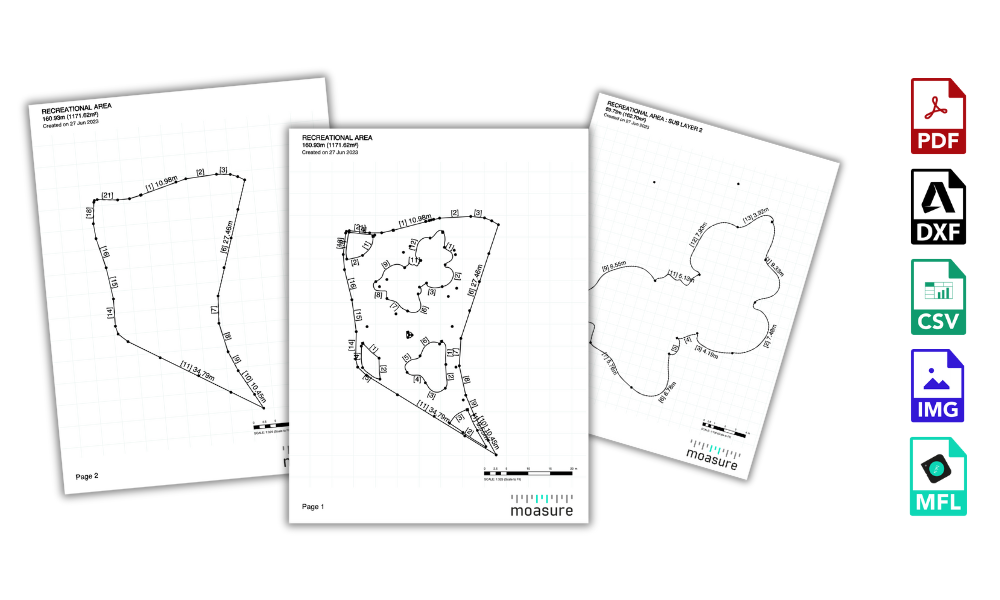 Scaled PDFs, Improved Exports & Enhanced Moasure Coach
We love getting feedback on your Moasure ONE experiences, so when many of you requested scaled PDFs and some advanced export configurations, we listened.
Improved Exports
The export feature has undergone a comprehensive overhaul, resulting in a highly refined user interface that streamlines your workflow.
Scaled PDFs and Revamped PDF Export Functionality
Now, when you export PDFs, you can select the perfect scale to fit your needs. Choose from 'Scale to Fit' or select a custom scale ranging from a precise 1:1 ratio all the way up to 1:500. But that's not all—say goodbye to limitations on paper sizes. Moasure now supports a wide range of options, including A0 to A4, as well as engineering paper sizes such as ANSI C to E. We've also polished the PDF design, introducing a full-page grid, a scale bar, and clearer dimensions and labels to bring your measurements to life with even more clarity and precision.
You can also decide whether your PDFs are landscape or portrait, letting you decide how to best to present your measurements. You can alter font size, or print in a higher-contrast 'Black and White' mode, which you can then view in the new PDF preview feature. This will help to make your PDFs look more professional than previous versions.
Customizable CSV Export Options
Take full control over how your measurements are exported in CSV format with our newly-introduced configurable settings. You can select the exact data you need to export, letting you have full control over what measurement data you are exporting.
Clearer Export Options
When exporting, the Moasure PRO app will now explain the export types available. This will make it easier to decide if you should export a CSV or PDF file, for example.
Enhanced Moasure Coach
We're excited to introduce the redesigned Moasure Coach. We hope that you'll benefit from enhanced tips and measurement guidance. Now, instead of giving feedback while measuring during your measurement, Moasure Coach will analyze your entire measurement and only provide feedback once you've finished. Moasure Coach will be available on the sidelines and when feedback is available to you, you'll see a red notification badge. Tap the Coach icon to reveal improvement suggestions.
These features are now accessible to all users through the Moasure PRO app v1.8, along with a handful of bug fixes.

To find out more about Moasure ONE, click here.